Compare Major Couriers,
Find the Best Deal,
Book & Save!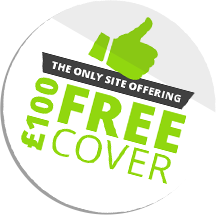 You are here:

Home
20kg parcel delivery - send a 20kg parcel with WPS - 20kg package delivery
20kg Parcel Delivery Service
If you're looking for a 20kg Parcel Delivery for a one-off parcel or ongoing shipments, get a quote from WPS today. We ship parcels in bulk which decreases our cost per parcel, and we pass this cash saving onto our UK customers in the form of cheaper prices. Whether you want to send something to a loved one across the globe in Australia, or much closer to home in Europe we can accommodate your request.
How to get started
Simply enter your details on our online form to browse a range of quotes and choose the option that suits your needs best. Weight, length, width and height are all the details that you need to enter in order to compare and contrast our vetted list of approved international courier services. Whether you wish to send a 20kg parcel for delivery or have a package imported to you. WPS have you covered. Happy shipping!
Why choose Worldwide Parcel Services?
Worldwide Parcel Services ship a wide range of parcel shapes, weights and sizes all over the
Globe. We work with the biggest and best international courier companies including the likes of DHL, UPS and DPD to ensure that your delivery is in safe hands. Trust and credibility is key and our partners all have excellent track records for reliability. Coupled with our customer service and door to door parcel tracking, WPS is your ideal shipping partner.
Due to the economies of scale we benefit from we are able to pass competitive prices onto our customers – affording you the opportunity to make a cash saving on 20kg Parcel Delivery.
Whether you want to ship (or import) a parcel to Europe, Asia or North America, it's not a problem for WPS and our partner courier companies. We take most sizes up to 500kg in weight – WPS should be your first port of call for international parcel shipping.
We also remove the inconvenience of transporting a heavy, oddly shaped parcel to your local post office by collecting your package from your doorstep. If you want to send a 20kg parcel anywhere abroad, or if you are looking to import a 20kg package for delivery, get a quote from WPS today.
Frequently asked questions
Where can I send a 20kg parcel to?
Worldwide Parcel Services ship to any of our 200 destinations around the globe.
What can I send?
Customers can send any weight of parcel from 1kg up to 500 kilos. You could be looking to send suitcases or furniture abroad (must be packaged) or you may be sending Christmas presents to overseas family. As long as the items aren't prohibited, we can send it safely and securely.
How long will it take?
If you're shipping within the UK, in most cases WPS can provide Next Day delivery with our 24 Next Day service.
Customers are also able to ship parcels overseas using our express courier service. It's
important to understand that the time taken to deliver a parcel depends on the delivery
service selected and the final destination which the package is being shipped to. Many shipments to Europe can be next day on air services and from 2 day upwards for road services.
How should I package my 20kg parcel?
Regardless of the weight of your parcel, it's important that you package your parcel
correctly. Our packing advice page will help you to understand how to package your parcel securely.
Are there certain items that I can't ship overseas?
Most items will fine, but it's worth consulting our prohibited items list before organising a 20kg parcel delivery with us. Custom rules are different for each country so do drop us a message if you're unsure as to whether you're allowed to send your item.
Can I get cover for my 20kg package?
Your parcel is covered up to £100 included in the price but additional cover can be purchased for varying amounts up to £2000 for an additional fee which covers your 20kg package delivery in the unlikely event that the parcel is lost, or that it suffers any damage during it's journey to your chosen destination.
What other parcels can WPS ship?
With Worldwide Parcel Services customers can send a 30kg parcel, 20kg packages, long parcels, pallets up to 500 kilos by road and 300 kilos by air, and other unusually shaped items.
Do you still have a question that we haven't answered?
If so please do contact us today and one of our trained members of staff will be able to
assist you with your query and tell you more information about our 20kg parcel delivery service.
---
Here at Worldwide Parcel Services, we are proud to offer the best possible customer service to our customers. Our friendly UK based team have over 10 years of experience in the parcel delivery industry. You can always count on our team to deliver great services when you use WPS.
Prices for sending a 50kg parcel to
loading...