×
Coronavirus (COVID-19)
We are still taking orders and our courier partners are delivering to your door to door services as normal. Find more about our response to COVID-19 click here.
Compare Major Couriers,
Find the Best Deal,
Book & Save!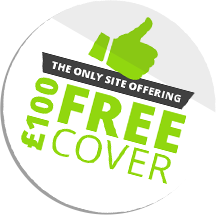 Packaging Advice
When sending a parcel with Worldwide Parcel Services, it is essential that your items are properly packaged otherwise your items could be damaged, delayed or lost. Claims for damage will be refused if the packaging is inadequate. We have created the following list to help you when you are packing your parcel.
All shipments must be boxed. Use a strong cardboard box suitable for the weight of the item you are sending.
When packing items into a box please wrap the items individually in bubble-wrap.
Fill any extra space in the box with polystyrene peanuts or more bubble-wrap (crumpled newspaper as a last resort!) so that the items cannot move within the box.
Ensure that you use strong tape (40-50mm wide tape) for sealing the package. Too much is better than too little!
Print off your unique parcel label that we have sent to you after booking with Worldwide Parcel Services
Ensure that the label is securely attached to the parcel.
Please apply a "Fragile" sticker or write this on the package if appropriate.
All items must be packaged in a cardboard box, including suitcases, musical instruments in hard cases, etc.,.
Shrink Wrap, bin liners, bubble wrap are not acceptable as outside packaging (except on pallets) and the driver may refuse to collect the item or it could be returned to you if collected.
DO NOT WRAP IN CHRISTMAS WRAPPING PAPER
Pallets can be shrink wrapped.
Any parcel 70 kilos or under should NOT be palletised. Contact us if you wish to do this as additional charges may apply.
packages over 70 kilos MUST be palletised.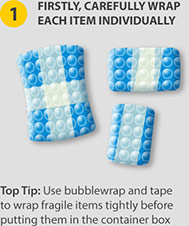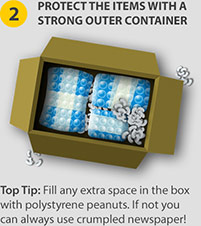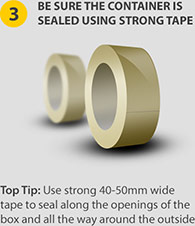 You can find out more about packaging advice for specific items such as car parts and computer parts in our FAQ section. We would like to remind all customers that we offer free parcel insurance valued up to £100 as standard with our parcel delivery (subject to terms and conditions). Additional cover is also available if required however there will be an additional fee for this service. Check our "restricted and Prohibited items list before taking out additional cover.