Compare Major Couriers,
Find the Best parcel
delivery prices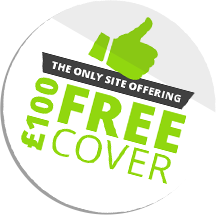 You are here:

Home
Gift Delivery Service | Send Birthday Presents and Christmas Presents Abroad with WPS
Gift Courier - Send Gifts by Post
WPS makes sending gifts in the post a simple and stress-free process. Whether you're wanting to send birthday gifts, Christmas presents or a gift for any other special occasion - simply compare couriers, book your delivery and save!
We know how important it is that your gift gets to its destination on time and safely - that's why we work with a network of trusted couriers such as DHL, Interlink Express, AMI, UPS, and DPD.
Professional Gift Delivery Service
We offer a professional gift delivery service via our wide range of couriers and delivery options. Whether you are looking for standard courier delivery or express or same-day delivery for your present, simply browse our range of delivery options and choose the one that suits you!
With WPS gift delivery, you get:
Gift Forwarding - Want to forward your gift to a destination abroad? Send on to over 180 destinations worldwide.
Trusted Gift Couriers - Send gifts safely and quickly with our professional courier network and excellent customer service.
Door to Door or Drop Off Delivery - Easy pickup options for your convenience.
Online Origin to Destination Tracking - Get continual online updates on your gift's journey so you can be sure it will arrive on schedule.
£100 Free Cover - To cover any damage or loss of goods in transit. Additional cover available for a fee.
CSV Upload - Need to send lots of presents? Upload a CSV file and book your deliveries in no time at all.
Sending Birthday Gifts
Birthday gifts can come in all shapes and sizes - with WPS you can send items from 1 kg up to 500kg using road service or up to 300kg if using our air courier service. If you have anything larger, contact our team at [email protected] and we'll be in touch to discuss custom delivery options for your present.
No matter if you've planned your gift and want to post far in advance, or you're in a last-minute rush - browse our range of deals from our couriers and choose a flexible delivery option that works for you, including same-day or recorded delivery.
Sending Christmas Presents
Christmas shopping can be a stressful time, no matter how early you start it! That's why at WPS we help to take the added stress out of gift delivery by letting you have control over what courier delivers your gifts. Our trusted partners have a range of gift delivery services designed to make the festive season the relaxing time it's meant to be.
With recorded delivery options, an online delivery tracker and door to door or drop off delivery, we let you post and monitor your item every step of the way to help you rest assured your parcel is in safe hands - no matter if you're posting within the UK or sending Christmas presents abroad.
Sending Gifts Abroad
WPS offers a simple way for you to send gifts abroad. Our reputable courier network can get your present to over 180 destinations around the world.
Whether you are posting to Austria, China, India, the US or another foreign destination, our team are on hand to make the process as smooth as possible. As with our UK gift delivery service, simply compare couriers, find the best deal, book and save!
It's important to remember that when sending gifts abroad you need to make sure your gift is not a prohibited item, or you will find that your gift won't be able to get through customs. For a full list of these items, take a look at our restricted and prohibited items list.
You should also check the weight restrictions if you are sending a particularly heavy gift abroad, as weight limits are stricter if your parcel is being delivered by an air courier.
Our Tips For Sending Gifts in the Post
Now you're ready to post your gift, here are our top tips for sending gifts in the post:
Prepare - Make sure you send your gift as early as possible to give you the widest range of delivery options and the greatest chance of your parcel being delivered on time.
Use Secure Packaging - While we make every effort to ensure your present is not damaged in transit, it's always best to make sure you have used suitable packaging to minimise any risk of wear and tear or water damage when on its journey.
Get your parcel dimensions right - In order to show you the best gift delivery options for you, we ask you to enter your parcel dimensions so you pay the correct postage cost. Double and triple-checking your measurements is always worthwhile to make sure your parcel isn't delayed.
Don't post restricted or prohibited items - It's important that you check our prohibited and restricted items list as posting any of these items will prevent your item reaching its destination, particularly if you are sending gifts worldwide as it will need to pass through customs.
Prices for sending a 50kg parcel to
loading...