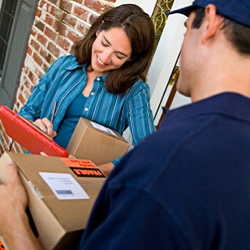 Here at Worldwide Parcel Services, we work closely with the major parcel courier services to ensure we can provide the cheapest possible delivery prices no matter where your package is due to be delivered. Whether sending a parcel just across the channel to France, or across a huge distance internationally to Australia, we talk with couriers to make sure we can work out the best prices regardless of location. Due to the fact that we deliver so many (thousands per month) parcels, the major couriers are able to offer us huge discounts which we can then pass onto you - that's why our prices are often cheaper than going with the courier directly.
With a large choice of couriers, this means we're able to pick and choose which delivery service we use depending on the location, meaning an even better price for our customers. Perhaps one courier is cheaper for European deliveries, and another is cheaper for international deliveries - in which case we can suggest to use one service over another. However, we'll usually leave the more expensive option in our quote system, if you wish to use a specific courier for any particular reason, whether it be personal preference or speed of delivery.
Our Couriers
So, who do we work with? We only use parcel courier services who have a proven track record, a great reputation and a good history behind them. Customer service is of huge importance for us, which is why we offer services such as Parcel Tracking and email or telephone support as standard. We also provide service over email and telephone, so if our online site can't answer the question for you, just get in contact with us and we'll be happy to help.
UPS Couriers - With a history stretching back over a hundred years to 1907, UPS (United Parcel Service) are one of the world's most recognised brands, with their brown delivery vans populating the streets of major cities across the globe.